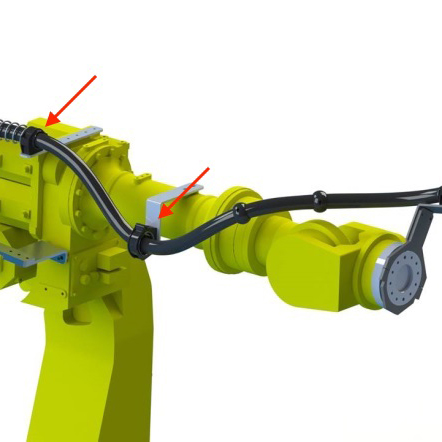 REIKU offers multiple options in order to control the location and trajectory for the conduit.
Determining optimum location of Halo Assemblies will help to ensure that the conduit is routed away from potential clearance or collision hazards, similar to the way that the eyelets on a fishing rod help to control and guide the fishing line.
* Gripping Clamps alone cannot be used as a halo as they have a groove/raceway inside which will catch on the conduit corrugations.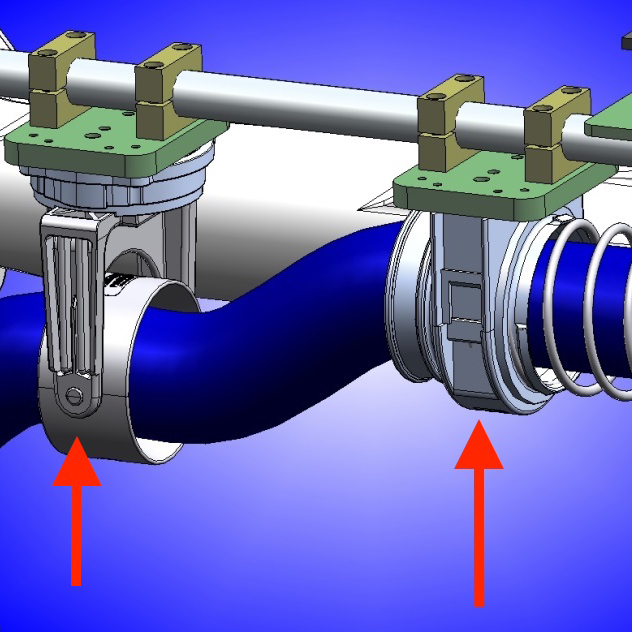 PAGLB Sliding Jaw
The use of Sliding Jaws held in place by a Gripping Clamp accounts for the majority of how Halo Assemblies are created for Robotic applications.
The Sliding Jaws have no ridges inside so the conduit can move through Gripping Clamp laterally and the Sliding Jaws fit inside a groove or raceway inside the Gripping Clamp so that the conduit can easily rotate 360° in a radial direction in order to prevent torsion build up.
PAFHB Spring Holder
All of the REIKU Spring Holders have no ridges inside and are able to be used to create Halo Assemblies also.
* Please see Spring Holder section of product offerings for details.
PATBB Trumpet Jaw
This version of a Halo assembly is held in place by a Rotary Fork which has mounting holes located on each side as indicated by the red arrows in the picture above.
The PATBB Trumpet Jaw has round locking pins that seat inside the Rotary Fork and this version of Halo Assembly is able to pivot on these pins and move up and down in a see-saw type of motion. The outer portion of the Trumpet is flared in order to allow the conduit to easily change it's path or direction after it exits the assembly which is ideal for high mobility / fast motion applications.
---